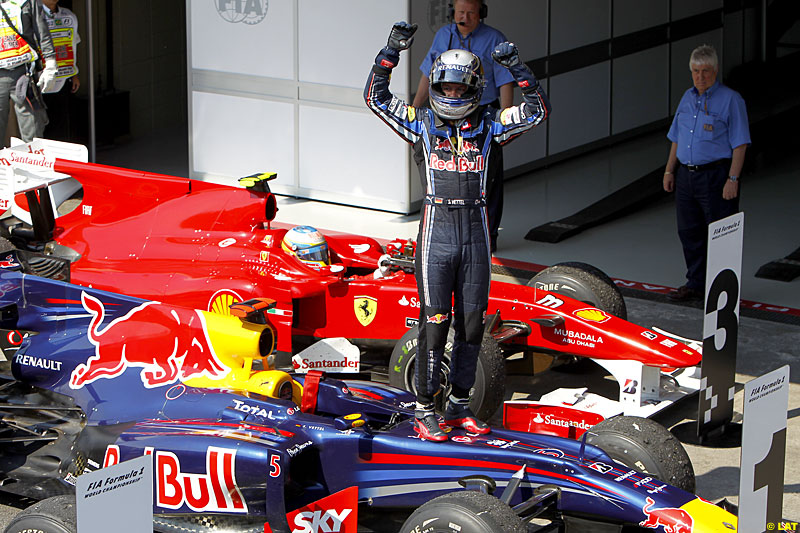 日本シリーズが長引いたせいで地上波ではレース後の代表会見が放映されませんでした。。
その代表会見後の個別質問にて。
「今日と同じヴェッテル-ウェバー-アロンソのオーダーでアブダビの最終ラップに入ったら、ウェバーに譲る?」とヴェッテルにしつこく食い下がったリポーター2名。
言わずもがな、というか言わぬが花、と言うか。。観てるほうは興味が尽きませんが。。
。。。ところで「アイルトン・セナ 音速の彼方へ」、Tony Dodginsもインプレッションを書いてます。。"More"からどうぞ。
Why Brazil belongs on the F1 calendar

It may be crime-ridden - just ask Jenson Button - its facilities may not meet modern circuit standards, but Interlagos and Brazil's passionate F1 fans thoroughly deserve their grand prix every year says Tony Dodgins

The amount of media topspin applied to Jenson Button's escape from armed bandidos in Brazil was quite something to behold. It was as if he'd been targeted by a kid with a pea shooter one minute and a squadron of B52s the next.

It can't have been a nice experience but Jenson himself praised his driver's quick thinking and said he felt more sympathy for the Sauber engineers who were not in a bullet proof car and who lost their brief cases and personal effects. This is pretty standard fare for the trip to Interlagos. You can practically guarantee that something unpleasant will befall someone and, inevitably, it causes people to start asking whether it's a place F1 should keep going to.


Jenson Button relives his escape from armed bandits for the press © Sutton
The first time I went was '92. Obviously I'd read about the F1 fraternity having their watches nicked on the Copocabana beach when the race used to be in Rio, but I went to Sao Paulo without any undue concern. Going in blind and on a budget, I stayed in a hotel which charged £112 for the four days, including breakfast and dinner.

It was in a bit of a ropey area, lots of dogs and barefoot children, and I did feel conspicuous walking around with a collared shirt and doctor's case with computer.

But I rode buses and trams, walked around at night, everybody smiled and there wasn't a problem.

"You stayed where?" the regulars asked, a little incredulous, and I came to realise that perhaps I'd been a bit fortunate.

Four years later, rooming with a journalist mate, we did it properly. Five star hotel in one of Sao Paulo's upmarket districts. First night, we made a mistake. Eager to find a good churrascaria – a meat eater's paradise – we asked reception for a recommendation. It obviously announced our departure for a good couple of hours and upon returning our room looked like that one in the Yellow Pages advert; where the embarrassed student brings a girl back to his trashed apartment and phones for a cleaner while pretending he's been burgled.

No passports, brief cases, lap tops, tickets, etc. The hotel kindly put on a taxi for us to report our misfortune at the police station. Where we made our second mistake. Sat in a long corridor awaiting our turn, a statuesque heavily made-up woman sashayed past on six inch heels below legs that went up to her armpits and the briefest of brief purple satin figure-hugging dresses.

"Obviously been pulled for street-corner offences," said my mate, a little too loudly I thought, before going on to speculate about the rental rates. But presumably she spoke Portuguese anyway.

Every so often a door would open, victims would emerge clutching their crime reports and an elderly man would usher in the next customer. When we'd been there a couple of hours and noticed that practically everyone who'd arrived after us had been and gone, we were finally led in. And there she was. Far from being a lady of the night, she was in fact the chief night crime officer. And spoke perfect English. She smiled knowingly, and then proceeded to take a coffee break before coming back to take our statements...

Fourteen years have gone by since, and at least 20 churrascaria visits. This year it was straight off a 14 hour flight to Jenson Button's British press dinner at one of the best of the said establishments. With no chance to drop off at the hotel first, I put my bags in the corner by the table where I could keep an eye on them. The BBC's radio producer who arrived at the same time, put his behind the bar. At the end of the evening he had no wallet, credit cards or keys. So there's a useless Alfa at Heathrow Airport this morning if anyone wants it...

It's a bit like the definition of a minor operation – one on somebody else. But when it happens to you it gets your attention. Provided you don't walk around like Audrey Hepburn out of Breakfast at Tiffany's it's probably going to be okay but I'm not sure I agree with Mr E – I think I'd choose London's Oxford St in preference!

Talking operations, one of the scariest things I've read was in the Sunday Times a while back, about the Brazilian trade in body parts – eyes, kidneys, liver – that kind of thing. A tourist had woken up in an ice bath minus his liver with a note pinned to the taps beside a mobile phone telling him he had 20 minutes to summon medical assistance from the number they had kindly given him. I comforted myself with the thought that anyone in search of a healthy working liver probably won't target a journalist.

Then there's the facilities when you actually get to Interlagos. It's shoulder-to-shoulder working conditions for the teams, laughable in contrast to places like Abu Dhabi. I've seen people paddling in two inches of water in the press room after an impromptu monsoon storm, when it was probably a better bet to play Russian Roulette than plug in a laptop.

When the teams were asked to vote on races they'd like to lose, Brazil came top, but they were apparently told that wasn't an option. And it must sure as hell have annoyed the Silverstone hierarchy to take the flak they have done while Brazil continues unimpeded.

Would we be better off without it? Not for me. A world championship is what it says and there's no better atmosphere than a full house at Interlagos. It beats the hell out of Turkey and China. There's heritage – Fittipaldi, Piquet, Senna – and there's real passion for the sport.

Nothing illustrated that better than a screening of the new Senna movie I was fortunate enough to attend last Thursday evening in Sao Paulo. I must admit, as a huge Ayrton fan, I approached it with a degree of trepidation. There have been some truly awful racing movies – Bobby Deerfield, Days of Thunder and Stallone's appalling Driven to name but three.


Brazil's fans are passionate about racing © Sutton
Senna is in a different class. A labour of love by a director, producer and editor who know and care about the subject, it is compelling viewing for card-carrying racing fans as well as for cinema goers who appreciate a story. It was done with the support of the family, who appreciated the approach, and, at a private viewing, it reduced Ron Dennis to tears as well as earning his approval, which is not easy.

Alain Prost, unsurprisingly, does not emerge too well – he even gets beaten up by Selina Scott – but he does an awful lot better than Jean Marie Balestre. I won't spoil it for you, but I urge you to see it.

It is now 16 years since Ayrton died of course, and hard to believe though it is for us, some people won't know the ending. For them it will be even more poignant.

What you do forget over time, is those scenes from the funeral procession – octogenarian women weeping uncontrollably and people risking life and limb to ascend any potential vantage point. And the much uttered lament, 'What will we do now? We have nothing and he gave us hope.'

It's a multi-tiered society in Brazil and you shouldn't take a race away from people with passion like that. Just hope I'd have the balls to say that looking down the wrong end of a gun...


by

hatcho_bori

| 2010-11-08 19:54 | Trackback | Comments(

0

)
カテゴリ
以前の記事
タグ
記事ランキング
ブログジャンル
画像一覧